September 27, 2009 by Frank Gannon | Filed Under Soundtrack Of Our Lives | Leave a Comment
The Soundtrack of Our Lives looks back at some of the music that was popular, and the performers who were influential, around the time, forty years ago in 1969, when Richard Nixon became POTUS.
PETER, PAUL & MARY
Mary Travers died on 16 September.  Although, technically, she was only one third of Peter, Paul & Mary, in this case the third was greater than the sum of the parts.  Peter and Paul were immensely talented.  But Mary's voice, her looks, and her mystique made her the memorable one.   Her strong, urgent, plangent voice stands out on the Soundtrack of Our Lives in the 1960s, commanding respect and demanding that attention be paid.
She was born in Louisville, but she grew up in Greenwich Village.  Her parents were journalists and labor organizers, and by the time she was in her teens, Mary was absorbing the music and the politics of the Village coffee houses.  Pete Seeger lived in the same  building as the Travers family, and while she was still in high school her singing group —the Song Swappers— supplied backup for some Seeger records.
Although she was occasionally coaxed to step on stage to sing alone, her close to paralyzing stage fright might have put paid to a serious career — save for the timely intervention of Albert Grossman.
Grossman was a Chicago manager and impresario.  As a showcase for his acts he opened the Gate of Horn, a club whose small size and unprepossessing basement location were quickly overshadowed by its legendary reputation.  He specialized in folk acts; in 1959 he was a co-founder of the Newport Folk Festival.  One of his clients was a young Cornell graduate named Peter Yarrow.
The Fury and the Sound: uber-manager Albert Grossman (left) and master-arranger Milt Okun — the team that created PP&M.
Grossman watched the growing success of groups of essentially buttoned-down frat boys —like the Kingston Trio, the Brothers Four, the Limeliters, the Highwaymen, and the Chad Mitchell Trio— whose repertoire included folky material.  And there were a number of waif-like or well-scrubbed young female performers emerging —like Joan Baez and her sister Mimi Farina, Carolyn Hester, and Judy Collins—  whose vibe was early Birkenstock.
And Albert Grossman also saw the one thing that would be required to take folk mainstream: Glamour.
So, like a casting agent, he set out to find another relatively nerdish goateed dude like Yarrow, to supply a mildly edgy but totally non-threatening coffee house vibe, as the non-distracting background for a tall, striking, blonde of absolutely staggering beauty (and, incidentally, with a very good voice).  For the former role he found Noel Paul Stookey.  And for the latter, he found Mary Travers, who met all his criteria and also had a great voice.
And, thanks to Grossman's marketing insight, her stage fright was irrelevant; because all she had to do was stand there and sing.  She would be the purposely silent vessel of every fan's fantasy.
David Hajdu, whose Positively Fourth Street chronicles the early days of the folk movement in Greenwich Village, observed that "She had a kind of sexual confidence combined with intelligence, edginess and social consciousness — a potent combination.  If you look at clips of their performances, the camera fixates on her.  The act was all about Mary."
Grossman teamed PP&M up with the singer, producer, arranger Milt Okun.  It was an inspired pairing.  Okun had cut his teeth with Harry Belafonte, and he understood how to make meaningful material commercial.
The new group, known as Peter, Paul & Mary (Noel Stookey adopted his middle name to make things more alliterative) made their debut at the Bitter End in Greenwich Village in 1961.
Their first album, released on the Warner label in May 1962, was the eponymous Peter, Paul and Mary. There were  a few original Yarrow/Stookey songs, but the standouts were Will Holt's "Lemon Tree,"  Hedy West's "500 Miles," Pete Seeger's "Where Have All the Flowers Gone," and the Seeger-Lee Hays anthem "If I Had a Hammer."
Where it all started: The Bitter End opened in 1961 at 147 Bleecker Street in the heart of Greenwich Village. PP&M made their debut there that year.
"If I Had a Hammer" was written in 1949 and recorded by the Weavers.  It remained popular but unexceptional  as an all-purpose agitpropy  anthem until PP&M covered it and introduced it to America via Billboard's Top Ten.  The song won PP&M the 1962 Grammys for Best Performance by a Vocal Group and Best Folk Recording.
Their second album, 1963's Moving, contained a song co-written by Yarrow and Lenny Lipton, and a fellow Cornell undergrad.  It reached Number Two on the Top Ten, and has become one of the most widely-covered, beloved, and controversial songs in the pop canon: "Puff."
Some time later, Lenny Lipton —who went on to become a writer, filmmaker, and inventor— addressed the urban legends that quickly surrounded poor Puff:
It was in the spring of 1959 that I wrote the poem that became the song Puff, the Magic Dragon.  I was a freshman at Cornell.  I had been at the library at Willard Straight Hall, the Student Union building, and I'd read a sentimental poem about a dragon by Ogden Nash.  As I walked down State Street to the apartment of Peter Yarrow – who became the "Peter" of Peter, Paul and Mary, and who set my poem to music – I thought to myself, "I can do better than Ogden Nash's poem about a dragon."  Maybe I did.

Puff, the Magic Dragon has been interpreted – usually misinterpreted – time and again by many people.  When a work is out there people are free to interpret it any way they want.  I think Puff, the Magic Dragon is about a little boy and a dragon.

Immediately after the Peter, Paul and Mary's recording came out in 1962, Dorothy Kilgallen, who was a columnist in a New York newspaper (it might have been the Daily News) wrote a piece saying that Puff, the Magic Dragon was about marijuana, hah-hah-hah-poke-in-the-ribs.

When I wrote Puff I didn't know from marijuana.  We're talking about Cornell in 1958.  People were going to hootenannies – they weren't smoking joints.  It was Pete Seeger and "Michael, Row Your Boat Ashore," not  "One Toke Over the Line Sweet Jesus."
This clip —from a concert in Sydney in 1964— gives a good idea of the division of labor in PP&M.  Peter, who was in fact the leader, was the studly anchorman; Paul was the klass klown; and Mary was Mary nuff said.  (There is an element of you-really-had-to-be-there to the opening banter; for the impatient the song kicks in around 1:58.)
"Puff" and its tremendous success, didn't do much to endear PP&M to the increasingly suspicious —and jealous— purists who saw them selling out the  folk movement's heritage for a mess —admittedly a really big mess— of pottage.   Their repertoire was dismissed as derivative; their exquisitely honed harmonies were dissed as homogenized.  On stage, Joan Baez joked about "Peter, Paul and Misery."
But nothing succeeds like success.  And, besides, their progressive bona fides couldn't be questioned.  They sang for Dr. King at his March on Washington.  And they marched in Selma.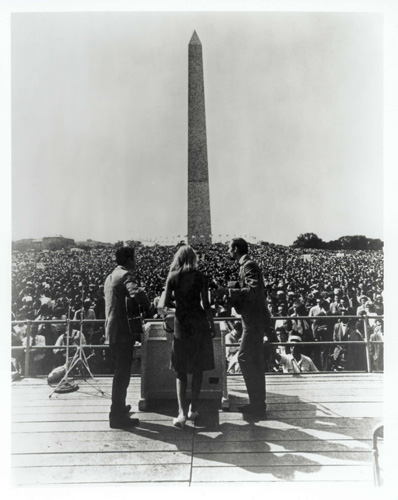 Their third LP, In the Wind, was released late in '63. It represented a major turning point in four careers — those of Peter, Paul, and Mary, and that of Bob Dylan.  Among its tracks were two of his songs — "Don't Think Twice, It's All Right" and the one for which it was named: "Blowin in the Wind."
They had released "Blowin' in the Wind" as a single 45-RPM in July —in time for Martin Luther King Jr.'s March on Washington.  It sold three hundred thousand copies the first week and reached Number Two on the Billboard Hot 100.  Thanks to it, PP&M once again retired the Grammys for Best Vocal Performance by a Group and Best Folk Recording
To this point, Dylan's own two albums on Columbia had attracted a small, if ardent, following. But his weird voice and sparse arrangements were still very much an acquired taste. Joan Baez, already engaged in the famous affair that she later chronicle in "Diamonds and Rust," was singing his songs and bringing him onstage at her gigs (sometimes very much to the disapproval of her fans).
But it was PP&M's cover of "Blowin' in the Wind" —just at the time when Dr. King and the civil rights movement was riveting America's attention— that made the trio one of the handful of major national mainstream acts, and made Dylan the premier folk artist both as writer and performer.
1964's live album In Concert opened with another Dylan song that captured the American mood and became another PP&M signature: "The Times They Are A-Changin'"  Again, their smooth harmonies ameliorated the song's bitter diagnosis and painful prescription.
Come gather 'round people
Wherever you roam
And admit that the waters
Around you have grown
And accept it that soon
You'll be drenched to the bone.
If your time to you
Is worth savin'
Then you better start swimmin'
Or you'll sink like a stone
For the times they are a-changin'.

Come writers and critics
Who prophesize with your pen
And keep your eyes wide
The chance won't come again
And don't speak too soon
For the wheel's still in spin
And there's no tellin' who
That it's namin'.
For the loser now
Will be later to win
For the times they are a-changin'.

Come senators, congressmen
Please heed the call
Don't stand in the doorway
Don't block up the hall
For he that gets hurt
Will be he who has stalled
There's a battle outside
And it is ragin'.
It'll soon shake your windows
And rattle your walls
For the times they are a-changin'.

Come mothers and fathers
Throughout the land
And don't criticize
What you can't understand
Your sons and your daughters
Are beyond your command
Your old road is
Rapidly agin'.
Please get out of the new one
If you can't lend your hand
For the times they are a-changin'.

The line it is drawn
The curse it is cast
The slow one now
Will later be fast
As the present now
Will later be past
The order is
Rapidly fadin'.
And the first one now
Will later be last
For the times they are a-changin'.
PP&M's repertoire continued to include original compositions, traditional ballads, and songs by established folkies like Woody Guthrie, Pete Seeger, and Ewan MacColl.  But they also began to feature new young talents, and the mass audience they provided helped launch or advance the careers of artists like Tom Paxton, Fred Neil, John Denver, Laura Nyro, and Gordon Lightfoot.
On the 1965 album A Song Will Rise, PP&M introduced "For Lovin' Me" by a young Canadian singer-song Gordon Lightfoot.
Gordon Lightfoot's 1964 song "Early Morning Rain" —recorded on PP&M's 1965 album See What Tomorrow Brings— is one of my favorite PP&M songs.  The arrangement favors Paul, who manages to capture and convey the emptiness and loneliness of this hobo train song updated to the realities of late 20th Century transportation.
In 1967 PP&M included John Denver's "Leaving on a Jet Plane" as a track on their Album 1700.   Two years later —at the end of 1969— the song was released as a 45-RPM single and became PP&M's biggest hit.  It was also their last; they disbanded at the end of 1970 in order to pursue solo projects.
Denver originally called the song "Oh Babe I Hate To Go," but Milt Okun —who was now also his producer— convinced him to change the title.  In this clip —which was filmed the end of October '69  at the Cellar Door in Washington DC  for a locally-produced PBS series called Something To Sing About— the composer sings along
The extensive PP&M catalog —including the various solo albums by each member after the group disbanded, and the several reunion albums that ensued— is easily available (as on Amazon).
September 27, 2009 by Jonathan Movroydis | Filed Under Featured Articles | Leave a Comment
Interesting Takes From Home And Abroad:
Tuning In Too Late By Clark Hoyt, The New York Times
ON Sept. 12, an Associated Press article inside The Times reported that the Census Bureau had severed its ties to Acorn, the community organizing group. Robert Groves, the census director, was quoted as saying that Acorn, one of thousands of unpaid organizations promoting the 2010 census, had become "a distraction."
Irving Kristol, 1920-2009 By William Kristol, The Weekly Standard
In memoriam.
No Deadline Set for Decision on Troops By Bob Woodward, The Washington Post
Obama to Reassess Afghanistan War.
What Was Bill Thinking? By Christopher Hitchens, Newsweek
Inside the mind of William Jefferson Clinton.
A 'Principled Conservative' By George Will, The Washington Post
Florida, a geological afterthought, was the last portion of what are now the lower 48 states to emerge from the ocean, and it emerged halfheartedly: Its highest point is just 345 feet above sea level.
McChrystal's War By Evan Thomas, Newsweek
Gen. Stanley A. McChrystal believes he can win in Afghanistan. It's the rest of the world that needs convincing.
September 26, 2009 by Robert Nedelkoff | Filed Under Cuba, Intelligence, National Security, News media | Leave a Comment
In early June of this year readers of Washington's two dailies woke up to the news of the arrest of a much-liked, sophisticated, rather affluent local couple. W[alter] Kendall Myers, when FBI agents put the cuffs on him, was 72 years old; a great-grandson of Alexander Graham Bell and scion of the Grosvenor family that guided National Geographic magazine for a century; and a former high official at the State Department and adjunct professor at Johns Hopkins University's ultra-prestigious School of Advanced International Studies. His wife, Gwenolyn Steingraber Myers, was a 71-year-old South Dakotan who had come to Washington as an aide to Senator James Abourezk in the 1970s and, in recent years, had been working at Riggs Bank and at a bookstore in DC's Cleveland Park neighborhood. The couple lived in an elegant co-op at the Westchester on Cathedral Avenue, and, in 2007, acquired a 37-foot, state-of-the-art yacht which they named Helene. Both had reached retirement age, and, like many well-off couples in their sunset years, were just counting down the days until they could board their boat and head south for good.
Except in their case, they weren't planning to dock their yacht in Boca Raton or Jupiter, or even Key West, and go looking for a comfortable little house. They meant to go all the way to Havana, to the nation for whose spy agency they had worked for nearly thirty years. It was for espionage that they were arrested by the FBI this summer.
At the time of the Myerses's arrest, the Washington Post and the Washington Times published lengthy articles. The Post's writing about the couple noted that in the mid-1970s, not long before meeting his Gwen, Kendall Myers, who had recently divorced his first wife and had trouble making his child-support payments, had drunkenly slammed his car into another vehicle one Thanksgiving Eve and that a teenage girl, Susan Slattery, who was in the other vehicle, died as a result, for which he received three years's unsupervised probation. The tone of the quotes from Myers's friends suggested that this unfortunate incident had somehow unsettled an otherwise upstanding citizen and had sent him down the path to espionage.
Ah, if only Alger Hiss had friends like that – or, for that matter, could have used something like that for an excuse. The new issue of Washingtonian magazine features a lengthy article by Toby Harnden, the US correspondent for London's Daily Telegraph, which presents by far the most complete picture of the Myerses and their misdeeds set down on paper or cyberspace to date. (At this point the article is not online, so readers are urged to proceed to their nearest bookstore and newsstand and look for the October Washingtonian among the "city" magazines.)
Like any well-written account of the spy world, the article is thoroughly fascinating, from beginning to end. Among its most remarkable passages is one describing the other residents of the Westchester. As it happens, several of the Myerses's neighbors, according to one resident, were or are in the CIA and the Defense Intelligence Agency – and an upstairs neighbor is an FBI agent. Not one of these neighbors remotely guessed that the tall, bespectacled, well-mannered, bright but rather glib Foreign Service officer in their midst had actually spent decades, with his wife, hunched over a Sony radio purchased with Cuban money, carefully deciphering messages from those "numbers stations" that pop up around the shortwave dial. None of them knew that a man who once had angled to be George W. Bush's special envoy to Northern Ireland had, in 1995, spent four full hours with a grateful Fidel Castro. None of them knew that two agents working to the detriment of American national security were walking, every day, down the hallways where a former Westchester resident, Barry Goldwater, had once walked.
Instead, it was up to diligent FBI agents to listen to the broadcasts, carefully narrow lists of suspects, and look for clues. How about this one: the Cubans's code name for Kendall Myers was "Agent 202″ – the DC area code. How many Scoobysnacks would the Great Dane need to puzzle that one out? And Gwen Myers's handle was "Agent 123." Impressive, no?
Probably the most arresting passage in Harnden's article is the one describing how the Myerses were recruited to work for Cuba. They were not approached in some distant land which has diplomatic relations with the Castro government. They were not approached by someone who'd managed to go under deep cover in Little Miami and make his or her way up north. Rather, they were approached by a Castro lieutenant of long standing, who'd fought in the mountains with Fidel, Raul and Che, by the name of Carlos Ciano – an operative at the UN's Cuban mission in New York, who, thanks to the Carter Administration's conciliatory attitude toward the island nation's diplomats, was moving completely at will between Manhattan and Washington in the late 1970s, meeting and "greeting" leading policymakers at various informal brunches and parties sponsored by sympathetic Capitol Hill staffers and others. It was at one of these that Ciano met Kendall and Gwen Myers.
Gwen Myers, as explained in the article, had a thoroughly left-wing background – one of her sons, according to a South Dakota neighbor, made no bones about being, literally, a card-carrying Communist – and it apparently was through her that Kendall Myers took the fateful step from being a liberal State functionary, like thousands who never give a thought to betraying their country, to becoming an operative for Cuba.(The resemblance to the influence that Priscilla Hiss's views had on Alger in the early years of their marriage, as described in such books as Allen Weinstein's Perjury and Sam Tanenhaus's Whittaker Chambers, is quite striking.) It's difficult to overstate the implications of all this as the Obama White House and various Democrats on Capitol Hill assure us that it's time to let old quarrels with Havana be patched up.
Harnden also looks into the auto accident which is said to have had such a troubling psychological effect on Kendall Myers. It turns out that, for a man of almost forty, he handled the whole matter as if he were a particularly spoiled seventeen-year-old. He sent Susan Slattery's family a letter that, although missing an apology, concluded: "It is a tragedy for me too." During a recess in the civil case brought against him by her family, he told her father: "You people can't touch me." Harnden then wryly quotes a character in a David Ignatius novel, a CIA psychiatrist: "Treason is the ultimate mid-life crisis." Be that as it may, Kendall and Gwen Myers appear set to conclude their lives in prison.
The nuttiest quote in the article comes from James Abourezk. The former Senator was the first person Gwen Myers called after her arrest, and he states: "If we had ended the embargo years ago, there would have been no spying and none of this stuff would have happened. To me, if the Cubans are spying, it would be a defensive thing." Really?
There's a lot more of interest in the article – the description of Kendall Myers's deep Anglophilia, especially his fascination with those model modern Englishmen Burgess, Maclean, and Philby; the fact that his PhD thesis was a contrarian defense of Neville Chamberlain's appeasement policy; and a lot more. All in all, this is a fine, must-read work of journalism. Don't miss it.
September 26, 2009 by Frank Gannon | Filed Under American Politics, Media, News media, Public Opinion, Richard Nixon, U.S. History | 1 Comment
Forty-nine years ago tonight —on Monday  26 September 1960— the first televised debate ever held between presidential candidates was broadcast coast-to-coast.   Vice President Richard M. Nixon and Massachusetts Senator John F. Kennedy faced off in the studios of WBBM-TV, the Chicago CBS affiliate, and together they forever changed the face of American politics.
For some reason the first of the four YouTube videos of the first Nixon-Kennedy debate is disabled.  You can see it here.
Here are parts 2-4:
A transcript of the first Nixon-Kennedy debate can be found here.
The influence of the TV debates in general —and of the first one in particular (viewership declined with each subsequent rematch)— in changing voters' minds has become a subject of some debate.  But in what would become the November 8 cliffhanger, any factor was bound to be significant.  As Erika Tyner Allen described it:
At election time, more than half of all voters reported that the Great Debates had influenced their opinion; 6% reported that their vote was the result of the debates alone. Thus, regardless of whether the debates changed the election result, voters pointed to the debates as a significant reason for electing Kennedy.
The outcome of the first, and most important, debate ended up turning on appearance rather than substance.  RN had only been out of the hospital for a couple of weeks, and  had carried on a grueling campaign schedule right up until he arrived at the studio.  He had lost an inch in collar size but hadn't bought any new shirts.  He looked tired and gaunt.  To add insult to injury (literally) RN wore a light suit because he had been told that the background would be dark.  It wasn't, and he faded into it while Kennedy popped vigorously out.
JFK, who had a recently-refreshed Palm Beach tan, had spent the afternoon resting, in one way or another,  in a hotel room.
Marshall McLuhan famously analyzed the debate, ascribing Kennedy's victory to his objective, disinterested, "cool" persona; while RN's arsenal of talents (resonant voice, rigorous logic) were better suited to the "hot" medium of radio.  Indeed, polls showed that people who listened to this debate on radio considered RN the winner.
Several years ago, the late Don Hewitt, who produced that first debate, recalled some of the determinative atmospherics.
And RN, in RN, agreed:
It is a devastating commentary on the nature of television as a political medium that what hurt me the most in the first debate was not the substance of the encounter between Kennedy and me, but the disadvantageous contrast in our physical appearances.  After the program ended, callers, including my mother, wanted to know if anything was wrong, because I did not look well.
What turned out to be a telling range of skin tones: On stage on the night of 26 September 1960, JFK, producer Don Hewitt, and RN.
September 26, 2009 by Frank Gannon | Filed Under In Memoriam, Music | Leave a Comment
Alicia de Larrocha died last night in her native Barcelona. She was 89.
The 4′9″ dynamo was a child prodigy who started lessons at three and made her debut with an orchestra at eleven. Her repertoire, which extended from Mozart to Khachaturian, broadened and deepened over the years until she retired in 2003.
Her recordings of Spanish music were particularly admired and beloved. She  comfortably ranged from the sublime austerity of Antonio Soler's baroque sonatas, and the sunny sensuality of Granados' Danzas Espanolas (with whom her mother had studied piano), to the over-the-top bravura of Manuel de Falla's "Ritual Fire Dance."
In the early '90s she participated in the Concerto project with host Dudley Moore and London Symphony Orchestra conductor Michael Tilson Thomas.  The accompanying video dissecting their preparation of Beethoven's First Piano Concerto offered an insight into both the rehearsal process and the strong but charming personality of the performer.
The second, concluding, part is here.
September 26, 2009 by Frank Gannon | Filed Under Comedy, Entertainment, Humor, Internet, Lifestyle, Sports | Leave a Comment
Dude Perfect is a collective of six roommates at Texas A+M who have developed what you might call a G-rated family-friendly frat boy version of Jackass.
In their expanding cottage industry, there are no visible tattoos, and nothing is stapled to anything else.  But they manage to retain  a sufficient quota of don't-try-this-at-home stone craziness to keep the parents worried and the kids engaged.
The question on some of the more than 3 million minds that have viewed the group's videos —including "the world's longest basketball shot"—  is whether these dudes are, well, maybe just a tad too perfect.  And the dudes consider it the greatest compliment that their doings are so derring that people aren't sure they can believe their own eyes.
Here's the view from the third deck of Kyle Field at College Station:
And here's the feat viewed from the field:
Based on their other videos, there's no reason to believe that this one is doctored. (Nor, of course, is there any reason to believe that this one didn't follow seventeen thousand four hundred and seventy-nine prior unsuccessful attempts at this particular stunt — and what difference would that make if this one is legit?)
The name derives from the moment when Sean, setting up the camera on the railing of Tyler's backyard deck,  looked thorough the lens and saw his buddy in the center of the frame. "Dude perfect" was his response and the rest is history.
On their impressive website, they introduce themselves this way:
Ultimately, Dude Perfect is a group of college guys that follows Jesus. We didn't plan on this type of interest in our videos and we're incredibly grateful. We want to use this platform for something bigger than us.
Right now, that something bigger is the sponsorship of children in Africa through the organization Compassion International.
They started out betting lunches on trick shots in the backyard.  Eventually ("after quite a few free lunches went the bearded guy's direction") they decided to make a video and upload it to YouTube.  In the last several months, they've broken out with appearances on Good Morning, America (whose computer analysts couldn't guarantee that the videos are unedited but couldn't find any edits or figure out how any might have been made) and in Sports Illustrated.
Although they each have definite personalities that emerge in the videos, the ID caption on their website photo reads: "from left to right: this guy, that guy, the bearded one, the tall guy, the next tallest guy, the guy who looks just like the other guy."
September 26, 2009 by Frank Gannon | Filed Under Weekly Weekend Reward | 1 Comment
Bluegrass pioneer and legend Bill Monroe frequently serenaded his home state.  In 1948, inspired by hearing Monroe's "Kentucky Waltz" on the radio one night, Pee Wee King, the leader of the Golden West Cowboys, teamed up with his vocalist Redd  Stewart, and wrote one of the greatest —and most enduring— of American popular songs: "The Tennessee Waltz."
Pee Wee (né Julius Frank Anthony Kuczynski), had toured with Gene Autry and was a member of the Grand Ole Opry, came to country music via a polka band in his native Wisconsin.  Redd, at least, was born in Tennessee, although he grew up next door in Kentucky.  According to the legend, because they had no paper at hand, he emptied a matchbox and tore it open in order to jot down the words to the melody they crafted.
Here are the composers —Redd vocalizing and Pee Wee accordionizing— performing the "The Tennessee Waltz" and another of their major hits, 1952's "You Belong To Me."
Roy Acuff's 1948 recording reached Number 8 on the country charts. But it wasn't until two years later that the singing rage Miss Patti Page's pop ballad cover of the song became one of the best-selling singles of the 20th Century.   Released at the end of the year, her record spent thirteen of its thirty weeks on Billboard's pop chart at Number One.
Patti Page's"Tennessee Waltz" was the first pop song of the wayward preadolescence that would shortly become my misspent youth.  I remember wearing out needles playing the 78-RPM record; and being taken, after some serious pestering,  to see her stage show at the New York Paramount.
The Gannons were relative rubes, and, as we arrived to see the movie that preceded the show, we couldn't figure out why the first dozen rows —seemingly the prime real estate for the show that was to follow— were empty.  The movie ended; and, accompanied by mighty organ music, the vast stage slowly rose from the lower depths and preceded to rise to the height of at least a two story building, and we were suddenly staring at a blank wall.
An hour later we all had creaks in our necks.  But we had, occasionally, seen what we were pretty sure was the hem of Patti Page's gown that had occasionally appeared  over the lip of the stage.
I wanted to learn the song, and I remember bringing the sheet music to a piano lesson, which was held in in the parlor of the the convent at the St. Barnabas School.  Sister Regina Florence was —as I now see, and for which I am still grateful— amazingly tolerant and, even, hip, for a Sister of Charity of Halifax in 1953.  And I wonder what the other nuns must have thought at some of the decidedly secular sounds that started emerging during my lessons.  But she still drew lines; and one of them was at the photograph that displayed Ms. Page's bare shoulders.  I had to put a plain brown wrapper —literally made from a shopping bag— over the cover for the subsequent lessons.
Three years later, in 1953, Les Paul and Mary Ford's cover reached the Top Ten:
"The Tennessee Waltz" was among the twenty-two "home recordings" made by Elvis Presley in Memphis, LA, and Germany during the mid-1960s. His version is alternately goofy, raunchy, and, when he puts the power of his voice behind the mojo of the music, pretty darn moving:
In 2005, Bonnie Raitt invited Norah Jones to join her on stage in Atlantic City for an excellent VH-1-produced show — Bonnie Raitt and Friends.
And Leonard Cohen, who rarely sings covers, included "The Tennessee Waltz" on his 2004 album Dear Heather.  Of course, he fitted it out with a extra verse of Cohenesque lyrics.
She goes dancin' with the darkness
to the Tennessee Waltz
and I feel like I'm falling apart
and it's stronger than drink
and it's deeper than sorrow
this darkness she left in my heart
And the last words go to terrific version, from a late '50s radio program, by a native Tennessean — Patsy Cline.
September 26, 2009 by Jonathan Movroydis | Filed Under Featured Articles | Leave a Comment
Interesting Takes From Home And Abroad:
Cryptic Iranian Note Ignited an Urgent Nuclear Strategy Debate By Helene Cooper and Mark Mazzetti, The New York Times
On Tuesday evening in New York, top officials of the world nuclear watchdog agency approached two of President Obama's senior advisers to deliver the news: Iran had just sent a cryptic letter describing a small "pilot" nuclear facility that the country had never before declared.
For Obama, Focus Shifts From Engagement To Pursuit of Concerted By Glenn Kessler, The Washington Post
The disclosure of a second uranium enrichment site in Iran has led the Obama administration to shift the emphasis in its dealings with the Islamic republic — away from engagement and toward building an international consensus for sterner action against Tehran.
Congress Needs a 72-Hour Waiting Period By John Fund, The Wall Street Journal
Voters want enough time to debate bills. Nancy Pelosi doesn't.
On Winning By Oliver North, Fox News
Our Fox News' "War Stories" team is cleaning our gear and packing up to go home. The special operations teams that "hosted" us for a half-dozen carefully planned and executed raids against the Taliban have showered us with patches, "challenge coins" and mementos accumulated since we arrived last month.
September 25, 2009 by Robert Nedelkoff | Filed Under Movies, U.S. History, Vietnam | 1 Comment
Daniel Ellsberg, the man who, with the aid of a photocopier and some willing journalists (plus former Sen. Mike Gravel), unloaded the Pentagon Papers into the public eye, is now the subject of a feature documentary which opened in Los Angeles this week, with the somewhat unwieldy title The Most Dangerous Man In America: Daniel Ellsberg And The Pentagon Papers. (And, from reading the New York Times, you would have thought that "most dangerous man" had been retired by Glenn Beck.) The Associated Press site has an article about this event.
It reveals that, nearly forty years after Ellsberg walked out of the offices of the RAND Corporation (or "Rand," as the article spells it) with the last of several suitcases stuffed with the Papers, he still dreams constantly of walking through the hallways of decades ago, still a respected expert at that eminent think-tank. When he wakes up, however, the reality is just a teeny bit different:
The movie had its West Coast premiere only a few blocks from Rand. Ellsberg, ever the agitator, sent college students with flyers to headquarters to urge his former colleagues to attend the screening and try to understand why he did what he did.

None came. Ellsberg acknowledges that some wounds never heal. At a Rand reunion several years back, no one would shake his hand. When he tried to visit Rand, a nonprofit think tank providing analysis of public issues for government agencies, he was escorted out by security guards.
It's hard to know if this film will be received with the chorus of hosannas that it undoubtedly would have received from liberal reviewers and bloggers if a Republican were now in the Oval Office. Since President Obama entered the White House Ellsberg has been slightly less prone in interviews to suggest that what the country needs is someone in the corridors of power to follow his example and unveil classified documents concerning the Iraq or Afghanistan conflicts, but he hasn't quite stopped urging such action, perhaps to the dismay of more than a few Democrats.
September 25, 2009 by Robert Nedelkoff | Filed Under Entertainment, Music, Nixon family | Leave a Comment
Three months ago I wrote a post about a Philadelphia newspaper's profile of Jennie Eisenhower, President Nixon's granddaughter whose stage career has taken her to theaters around the country. Starting on Wednesday, and continuing until November 1, she can be seen in the Media Theatre, near Philadelphia, in a production of that venerable cornerstone of the American musical, Show Boat. In it she plays Julie, the role created on Broadway (and continued in the famed 1935 film) by Helen Morgan, and also enacted in the 1951 film remake by Ava Gardner, and so will be singing those two classic Jerome Kern tunes "Can't Help Lovin' Dat Man," with lyrics by Oscar Hammerstein II, and "Bill," with words by P.G. Wodehouse. This article from the Delaware County Daily Times discusses the upcoming show and in it Jennie discusses the various roles she's undertaken. One thing for sure: there aren't many thespians out there who have played both the Artful Dodger (in Oliver!) and Hedda Gabler. But Jennie has.
September 25, 2009 by Frank Gannon | Filed Under American Politics, Congress, Democratic Party, Double Standard Paranoia Quotient, Senate | 2 Comments
As reported by Bryan Bender in today's Boston Globe:
WASHINGTON – A large military spending bill moving through Congress contains a little-noticed outlay for Boston that has nothing to do with national defense: $20 million for an educational institute honoring late Senator Edward M. Kennedy of Massachusetts.

The earmark, tucked into the defense bill at the request of Senator John F. Kerry of Massachusetts, requires US taxpayers to help the Edward M. Kennedy Institute for the United States Senate realize its goal of building a repository for Kennedy's papers and an accompanying civic learning center on the University of Massachusetts at Boston campus in Dorchester, next to the John F. Kennedy Library and Museum.

Kerry strongly defended the insertion of the $20 million earmark yesterday. He requested that it be included in the $360 billion defense budget, he said, to recognize Kennedy's long tenure on the Senate Armed Services Committee.

The institute will serve as a focal point for the late Massachusetts senator's legacy, much as presidential libraries do. It will house Kennedy's official papers and oral histories from the nearly half-century he served in the Senate. With a museum and exhibit space, it also will be dedicated to educating the general public, students, teachers, new US senators, and Senate staff about the role and importance of the Senate in American political life. The institute plans to host an annual "Summer Senate'' for high school students from across the nation.

The $20 million earmark would cover as much as 40 percent of the institute's initial fund-raising goal.

Beyond raising questions about the practice of slipping earmarks into bills in Congress, the provision also presents a potential ethical question for Paul Kirk, the longtime Kennedy aide Governor Deval Patrick appointed to fill the late senator's seat yesterday.

Kirk, who stepped down yesterday as chairman of the JFK Library Foundation, has also served as a member of the Edward M. Kennedy Institute board and has played a key role in helping plan and raise funds for the new center. If he casts a vote in favor of the defense bill, he also will be voting in favor of an institute to which he has had close personal and professional connections.

A spokeswoman for Kirk, Stephanie Cutter, said yesterday that he does not see his roles as conflicting.

"Mr. Kirk expects to vote on every issue important to the people of Massachusetts. He resigned from the Edward M. Kennedy Institute board at 8 a.m. this morning, so we don't expect a conflict to exist, but of course he'll comply fully with the ethics rules of the Senate,'' Cutter said in an e-mailed statement. She did not respond to a question about what role, if any, he played in securing the $20 million earmark.

Kirk is not running in the January special election for a new senator to fill out the remainder of Kennedy's term. He has not yet said whether he intends to return to the JFK Library Foundation once his interim Senate appointment expires.

At Kerry's request, Senator Daniel Inouye, a Hawaii Democrat who chairs the Senate Appropriations Committee, added the $20 million earmark to the defense bill, congressional aides said. The funding would come on top of $5 million secured with Kerry's help earlier this year in a Labor Department spending bill, which provided money for the institute's planning and design.

The center had raised an additional $20 million in private donations earlier this year, and more money has been contributed by members of the public since Kennedy's death last month from brain cancer, said Joe Ganley, an institute spokesman. Ultimately, Ganley said, the majority of the center's funding will come from private donors, not taxpayers. He said many of Boston's most influential civic leaders, including businessman Jack Connors, are helping to raise funds.

The institute's president, and it's only staff member so far, is Peter Meade, a former Blue Cross-Blue Shield executive who also serves on the board of the JFK Library Foundation. Meade was unavailable for comment yesterday, Ganley said.

Using the national defense budget for such earmarks is considered a particular affront by those advocating for fiscal discipline in the midst of two wars that are straining Pentagon coffers. Overall, the Senate version of the bill includes 778 earmarks worth $2.65 billion, including a number that have little or nothing to do with military matters.

A major concern is what gets cut from the Pentagon budget to make room for things like the Kennedy institute, said Winslow Wheeler, director of the Strauss Military Reform Project at the left-leaning Center for Defense Information in Washington.

"The committee did not add money to the bill to pay for its billions of dollars in pork,'' Wheeler said.

A spokesman for Inouye declined to explain why the Kennedy institute earmark was inserted into the Pentagon budget, rather than into an education bill or other piece of legislation. In a statement released by his office, Inouye said, "It is my sincere hope that many of these students will be inspired to seek a life of public service, with the same spirit of patriotism and love of country that I saw each and every day from Senator Kennedy.''

While Kerry said using the defense budget to fund Kennedy's institute was a tribute to his "leadership on military technology, weapons systems, and safety equipment for our troops,'' Wheeler said he believes there is a more practical reason.

"It's a natural for Kerry to go to Inouye on this,'' Wheeler said. "If it's in the defense bill it must be a good idea. And the defense bill is sure to pass. He wanted a fast vehicle to get it enacted.''
September 25, 2009 by Frank Gannon | Filed Under Afghanistan, History, Obama administration, Overseas Contingency Operation, War on Terror | 2 Comments
Byron York's column in today's Washington Examiner is too powerful to paraphrase and too important to excerpt.
He examines some recent stories and finds a disturbing pattern:
There was an international uproar when, on Sept. 4, in Afghanistan's Kunduz province, an American fighter jet under NATO command bombed a group of Taliban fighters who had hijacked two fuel tanker trucks. The trucks exploded, the fighters were killed, and so were a still-undetermined number of Afghan civilians.

The civilian deaths sent shudders through the American military command, already fearful that civilian casualties would further alienate the Afghan public. Army Gen. Stanley McChrystal, the top American commander in Afghanistan, was said to be angry and determined to tighten the U.S. force's already-strict rules of engagement even more to avoid future civilian deaths.

Then something odd happened. When McChrystal met with local leaders in Kunduz, a few days after the bombing, he got an earful — but not what he expected.

According to a detailed account in The Washington Post — a story that has received too little attention in the ongoing debate over U.S. policy in Afghanistan — the local Afghan leaders told McChrystal to stop being so fussy and to go ahead and kill the enemy, which they said would help bring stability to the region.

Post reporter Rajiv Chandrasekaran was given extraordinary access to the bombing investigation. According to his account, McChrystal began the meeting with a show of sympathy for those who had been killed or wounded. The general didn't get very far before he was interrupted by the provincial council chairman, Ahmadullah Wardak.

The security situation has been getting worse in Kunduz, Wardak told McChrystal. American and NATO troops haven't been aggressive enough in pursuing and killing the Taliban. In Wardak's view, the bombing of the fuel tankers, rather than a mistake, was the right thing to do.

"If we do three more operations like was done the other night, stability will come to Kunduz," Wardak said, according to the Post account. "If people do not want to live in peace and harmony, that's not our fault."

Chandrasekaran reported that McChrystal "seemed caught off guard." Wardak clarified a bit more: "We've been too nice to the thugs," he said.

So instead of receiving an angry lecture on America's disregard for Afghan life, the general received an angry lecture on America's hesitance to go after the enemy.

Cut from that scene to a letter written to Sen. Susan Collins last July. It was from a New Portland, Maine, man named John Bernard, father of Lance Cpl. Joshua Bernard, then serving with the Marines in Afghanistan.

John Bernard, himself a 26-year veteran of the Marines, was enraged by the military's new, restrictive rules of engagement in Afghanistan. The rules are "nothing less than disgraceful, immoral and fatal for our Marines, sailors and soldiers on the ground," Bernard wrote. Under those rules, U.S. forces "without reinforcement, denial of fire support and refusal to allow them to hunt and kill the very enemy we are there to confront are nothing more than sitting ducks."

The letter, disturbing at the time, became heartbreaking three weeks later, when Joshua Bernard was killed fighting the Taliban in Helmand province.

His death became national news when the Associated Press published a clearly inappropriate photo of Bernard as he lay wounded. But the bigger news should have been his father's concerns about the rules of engagement.

Now cut again, this time to Sept. 8, when four U.S. Marines were killed when the Taliban ambushed their patrol in Kunar province. The Marines were taken completely by surprise and pinned down under heavy Taliban fire. McClatchy reporter Jonathan Landay was with them and wrote a harrowing account of their desperate battle to survive.

The rules of engagement again played a role. "U.S. commanders, citing new rules to avoid civilian casualties, rejected repeated calls to unleash artillery rounds at attackers dug into the slopes and treelines," Landay wrote, "despite being told repeatedly that they weren't near the village."

President Obama is in the middle of a new reassessment of his original reassessment of the U.S. mission in Afghanistan. The big question consuming the press is whether Obama will send more troops, and if so, how many. But what American troops are actually doing in Afghanistan is even more important.

Will the president listen to John Bernard, to the troops who are fighting under tight restrictions, and even to Ahmadullah Wardak? Will he let them fight the fight? It's simply wrong to place Americans at risk otherwise.
The controversy over the publication of the photograph of  Lance Corporal Joshua Bernard's battlefield death, against the wishes of his family,  ignored the letter written by his father to Senator Susan Collins a few weeks before.  John Bernard, a USMC veteran, had written that the rules of engagement in Afghanistan were "nothing less than disgraceful, immoral and fatal for our Marines, sailors and soldiers on the ground".
September 25, 2009 by Frank Gannon | Filed Under Next Time You Think You've Had A Bad Day | 1 Comment
As reported in today's New York Post:
After struggling to turn Khadafy's insane ramblings at the UN into English for 75 minutes, the Libyan dictator's personal interpreter got lost in translation.

"I just can't take it any more," Khadafy's interpreter shouted into the live microphone – in Arabic.

At that point, the U.N.'s Arabic section chief, Rasha Ajalyaqeen, took over and translated the final 20 minutes of the speech.

"His interpreter just collapsed – this is the first time I have seen this in 25 years," another U.N. Arabic interpreter told The Post.
September 25, 2009 by Frank Gannon | Filed Under Double Standard Paranoia Quotient | Leave a Comment
The needle on the Double Standard Paranoia Quotient meter was reading way up in the red zone thanks to this editorial in today's Las Vegas Review-Journal:
Here in Clark County, Registrar of Voters Larry Lomax said last year he saw "rampant fraud in the 2,000 to 3,000 registrations ACORN turns in every week," with some 48 percent of those forms being "clearly fraudulent."

The Las Vegas headquarters of ACORN, "a Democrat-allied organization," was raided after being "accused of submitting multiple voter registrations with duplicate and false names," the Washington Times reported last fall. The outfit claimed it had registered to vote in Nevada, among others, the starting lineup of the Dallas Cowboys.

The raid "set off a skirmish over efforts to expand the electorate on behalf of Sen. Barack Obama," the Times reported.

Mr. Lomax noted ACORN had hired 59 inmates from a work-release program at a nearby prison and that some inmates who had been convicted of identity theft had been made supervisors. "That led some local wags to joke that at least ACORN was hiring specialists to do their work," reported John Fund at The Politico, last November.

ACORN's 2008 Las Vegas field director, Christopher Edwards, pleased guilty last spring to two gross misdemeanor counts of conspiracy to commit compensation for registration of voters, in a deal that saw him agree to testify against fellow defendants.

Fox News' Eric Shawn reported there were at least 11 investigations across the country involving thousands of potentially fraudulent ACORN forms. Yet none of this was sufficient to block President Obama and his congressional minions from upping federal subsidies to outfits such as Mr. Obama's former associates at ACORN from the mere millions to the billions of dollars in their "economic stimulus" bill last winter.

Only when presented with the undeniable evidence of the "pimp and ho" videotape did the IRS last week announce it would terminate ACORN's participation in the agency's Volunteer Income Tax Assistance program — shortly after the Census Bureau advised ACORN it could forget about helping with its decennial head count.

Smoke? Fire? Washington Democratic leaders have opted to just lay low and not smell nothin'.

Despite all this evidence and a request in writing by 28 GOP senators — and despite the fact the U.S. Senate voted 83-7 on Sept. 14 to block ACORN from bidding for any more federal grant money — "Senate Democrat Leader Harry Reid, D-Nev., is refusing to hold a Senate hearing on ACORN's activities," the National Republican Senatorial Committee complained Wednesday.

Mr. Reid replied additional investigations might distract lawmakers from addressing more important matters, including health care and economic recovery.
September 25, 2009 by Frank Gannon | Filed Under American Politics | Leave a Comment
Ben Smith recycled Alexander Burns' reporting, but Wonkette said it best:
So Barack Obama wanted to get rid of Joe Biden for the day and settled on sending him to Georgia, to say "hi" to the flood victims down there. Immediately after arriving, Joe Biden addressed the local disaster relief officials and proclaimed, "They're all doing one heck of a job." Ha! Was he being intentionally ironic? No, because that requires the ability to be intentionally ironic.
September 25, 2009 by David R. Stokes | Filed Under American Politics, Annals of the Obama Administration, Barack Obama, Cuba, Domestic issues, Economic issues, History, Nixon Administration, Obama administration, Political Philosophy, Richard Nixon, U.S. History, UN | 2 Comments
President Barack Obama's visit to the United Nations this past week, complete with a major address and some quality time with a gavel, was yet another step in the process of seizing a much sought after role. For decades, U.S. presidents have routinely been referred to as leaders of the free world. For all practical and theoretical purposes now, though, the appellation "free" no longer applies.
We should now be saying that he's the leader of the world, period.
Until now, the various elements of a particular president's philosophy and methodology have usually been categorized dichotomously: domestic policy and foreign policy. And since they both involve issues that seldom fly that close to each other – except for matters of trade – the occupants of the Oval Office have generally been analyzed and graded on them separately by historians.
The prevailing wisdom is that a particular president may have been strong on one and weak on the other. Rare was the leader who got high marks for what he did here as well as his approach to things abroad. Sometimes it had to do with passion. Richard Nixon was fascinated with foreign policy, seeing it as the premier role for a president. And in spite of a solid domestic record (which was impressive in some areas), the 37th President is largely rated highly for his achievements on the international stage.
Even for those who seemed to be effective both domestically and diplomatically, there were few similarities in philosophy and methodology between the two vastly different arenas. That is, until now.
Mr. Obama has a philosophy that runs as a common thread between his approaches to everything he touches from the U.S. economy, to national security, and even, yes, foreign policy. What is this important piece of the puzzle? Simple. Though he pays lip service to one of the most basic issues of human nature and how people relate to and interact with each other on a micro or macro scale, his actions actually minimize – or at least, marginalize – a fundamental instinct common to every person, group, community, and nation on the earth.

Self-interest.
The call du jour from the mountaintop at 1600 Pennsylvania Avenue is for all of us to rise above, or in new age parlance "transcend," mere mortal self-interest. On the domestic level this means that capitalism – a mean, primal, greedy, and materialistic approach to economics that steals from the poor to give to the rich – must be replaced (slowly, but surely) with a more enlightened approach; one that emphasizes social justice and the equitable distribution of wealth.
This is all the rage these days. It may be called "progressive," but it's really a barely-if-at-all disguised form of socialism. If it walks like a duck, it's a duck. If it digests food like a goose, it's…well.
Never mind that this naïve experiment has never really worked well anywhere, and instead of practicing "to each according to need; from each according to ability," it actually devolves into "to each according to need; from each according to lack thereof." As Margaret Thatcher famously said: "The problem with socialism is that you eventually run out of other people's money."
You also start running out of freedom. Planned economies involve a construct where the individual trades (wittingly, or not) liberty for some perceived value – all supposedly accomplished on the wings of so-called better angels. The bigger the wings and more aggressive the planners, the greater is the loss of freedom. Capitalism, on the other hand, though often accused of being selfish and cynical, recognizes man's inbred propensity for selfishness and taps into it.
The father of capitalism, Adam Smith, who wrote An Inquiry into the Nature and Causes of the Wealth of Nations in 1776, referred to this as a "system of natural liberty." And flaws, cycles, weaknesses aside, it has worked pretty well here in our country. This approach to economics is, in fact, woven into the national fabric.
Everyone gets free healthcare in Cuba. But it's a good thing there, because the average wage earner in that nation makes less than $30.00 per month, including the doctors. And three out of four workers in that country – where a little more than 50 years ago economic development was the highest in Latin America and advanced even by European standards – now work for the public sector (read: the government tab).
But don't hold your breath while waiting for Michael Moore to make a movie entitled, "Cuba: A Sad Story." His current movie, a rant about the evils of capitalism, will be released next week in theaters. Of course, Moore wouldn't make a movie, or do anything for that matter, out of self-interest. Would he?
It's no secret if you want a high standard of living in countries with planned economies (the collective version of fixed incomes) you go to work for the government. As you climb the ladder you get better Dachas. This was only true here in the U.S. during the days of the Great Depression and New Deal.
Of course, in fairness, the anti-capitalists are just getting started.
On the international front, lip service may be paid here and there to the concept of national self-interest, as when Mr. Obama told the good old boys and girls at the United Nations the other day: "Now, like all of you, my responsibility is to act in the interest of my nation and my people, and I will never apologize for defending those interests." However, one just knows that a big fat conjunction is coming signaling the real point: "But," (see, I told you) "it is my deeply held belief that in the year 2009 – more than at any point in human history – the interests of nations and peoples are shared."
Really?
The president's hyperbolic assignation of this year notwithstanding, is it even remotely true that China or Russia share our interests? And even leaving the roguish states out of the discussion, is it at all realistic to ask any nation to act against, or in any way minimize, its own interest – no matter how compelling or romantic the call? And is it even just a little bit ironic that in a speech with the line, "No one nation can or should try to dominate another nation," our president calls everyone to follow the magnanimous lead of America, now that the Bush administration has been replaced with a collection of more responsible political gnostics?
President Obama does not have separate principles for his domestic and foreign policy approaches. There is one common thread. It's out with the old and presumably outdated self-interest and in with a brand new era of quasi-utopian-top-down-we-know-best-because-we-are-enlightened peace and prosperity.
Let bells all over the world ring as empathy breaks out all over.
"The time has come to realize that the old habits, the old arguments, are irrelevant to the challenges faced by our people," President Obama told the United Nations General Assembly on Thursday. But as ambitious and idealistic – even resonant to some – as such a statement is, the fact is that our fundamental nature as human beings has not changed throughout the course of history. Technology has changed, knowledge has increased, landscapes have morphed, and kingdoms and nations have come and gone, but as the Shakespeare of the prophets recorded six centuries before Christ:
All flesh is grass, and the goodliness there of is as the flower of the field: the grass withereth, the flower fadeth… – Isaiah 40:6-7
The simple, resilient, and undeniable fact is that self-interest is here to stay as long as the world turns. And any philosophy or vision, utopian or otherwise, that fails to take this fact into account, is doomed to failure.
In the waning days of Lyndon Johnson's presidency, he would sometimes lie awake at night worrying about things; the war, his Great Society dreams, and even his own health (his father died relatively young, and Johnson feared the same fate). Occasionally he'd wander the halls finding his way to a portrait of Woodrow Wilson, a man who had been at the pinnacle of power and influence, only to be eventually devastated emotionally and physically by events and the pressures of his office.
LBJ wondered if he'd wind up the same way. After all, didn't he just want something better for everyone – a higher standard of living and a world safe and at peace? And, hadn't he been described as a colossus and the most powerful president since FDR, just a few years earlier?
Mark Twain used to say that "history never repeats itself, but it rhymes." He was right. The cycles of history are not exact, but one time can resemble another and often does.
And one of history's most enduring lessons is that if anyone begins a visionary journey with dreams and even ideals that fail to take into account the simple fact that people, businesses, communities (organized or otherwise), nations, and groupings of nations all share a passion for themselves, it is like starting with the premise that 2+2=5. This may only seem to be a small error, but when carried out exponentially it becomes a monstrosity.
September 25, 2009 by Jonathan Movroydis | Filed Under Barack Obama, International Affairs, Nixon Center, Russia, The National Interest | Leave a Comment
Via the National Interest:
President Obama's decision to scrap the missile-defense system in Poland and the Czech Republic has attracted a lot of criticism and claims that he is caving in to Russian pressure. Mikhail Gorbachev, writing in the New York Times, argues that nothing could be further from the truth. In actuality, Obama's "concession" was greeted with a reciprocal move by Russia, in agreeing to a UN Security Council resolution "seeking to strengthen the international commitment to limiting the spread of nuclear weapons." So give-and-take in international relations really does work, at least when it comes to Russia.

As such, Gorbachev thinks Washington and Moscow should continue to work together to curb nuclear proliferation in states like North Korea and Iran. For the United States to convince the world community that Pyongyang and Tehran shouldn't have nukes, it needs to demonstrate that it too is committed to destroying nuclear weapons: "if it is acceptable for 5 or 10 countries to have nuclear weapons as their 'ultimate security guarantee,' why should it not be the case for 20 or 30 others?" Obama can start this charm offensive by negotiating an update to the START treaty, which expires in December. If America and Russia show they want to rid the world of nuclear weapons by dismantling their own stockpiles, other nations won't be far behind in joining us.

Nonetheless, there's nothing wrong with having an insurance policy against nuclear weapons. But we should manage missile defense in conjunction with Russia. Moscow faces many of the same threats we do. "Let the experts from both countries have a frank discussion that would reveal which threats are real and which are imaginary," says Gorbachev. This would help us "avoid misguided projects like the Polish-Czech missile shield, and could help move us from a state of mutual deterrence to a goal of minimum nuclear sufficiency for self-defense." Although this is a "big agenda," Gorbachev thinks America and Russia need a big agenda to initiate a "change in the strategic relationship between the two major nuclear powers—in their own interests and in the cause of world peace."
September 25, 2009 by Frank Gannon | Filed Under History, International Affairs, Middle East, Nixon Administration, Pat Nixon, Richard Nixon, White House | Leave a Comment
Forty years ago today, on 25 September 1969, RN welcomed Israeli Prime Minister Golda Meir to the White House.
It was the beginning of what became a warm and close relationship.  A relationship that would be tested, refined, and perfected during the Yom Kippur War in 1973; and that would culminate in RN's heartfelt toast to the now-former-PM at a dinner in the Knesset in 1974.
RN's Welcoming Remarks on the South Lawn of the White House

Madam Prime Minister and our guests here at the White House today:

It is a very great privilege for me, speaking in behalf of the American people, to welcome you, Madam Prime Minister, in a very personal sense, because you were raised in this country. You have been to this country many times, but we are particularly proud that for the first time we welcome you as the Prime Minister of Israel.

Speaking to you in that capacity, as the head of government of a very courageous people, a people who are determined to maintain their independence, who also are determined to achieve a lasting peace in the area in which they live, I look forward to the talks we shall have individually, and also with other members of your party.

It would be less than candid for me not to say that the problems of the Mideast are terribly complex and not susceptible to solution in one meeting, or two or three, or even more, at the level at which we will be talking.

But it is also proper to say that the Mideast and peace in the Mideast is of interest not only to your nation and your neighbors but to the whole world, because of what could happen in the event that war were to break out there, the repercussions that that could have all over the world.

We know that you and your people want peace. We know that your neighbors want peace. Certainly the majority of the people in the whole area want peace. The question is how to achieve it. On this we shall have discussions that I hope will be helpful; the real peace, the peace that is not simply one of words but one in which both parties will have a vested interest in maintaining.

I would say finally, Madam Prime Minister, that a very famous British Prime Minister once said: "One should always talk as much as possible to women, because this is the best school."

I can assure you that I recognize the tremendous complexity of the problem we will be discussing. I recognize that it is necessary to get the very best answers that we can to find a solution to these problems, and I realize that in talking to you, not just because you are Prime Minister but because you are one of the outstanding women in political leadership in the world, that in talking to you, I will be truly going to the best school today and tomorrow.
A timely visit: the week before she arrived at the White House, Mrs. Meir was on the cover of Time magazine.
RN described the visit in RN:
On September 25, 1969, Golda Meir came to Washington for a state visit.  In Israeli terms she was a "hawk," and a hard-liner opposed to surrendering even an inch of the occupied territory Israel had won in the 1967 war.  Mrs. Meir conveyed simultaneously the qualities of extreme toughness and extreme warmth; when the survival of her country was involved, the toughness was predominant.  She requested twenty-five Phantom jets and eighty Skyhawk fighters and complained about the delays in delivery of planes that had already been approved.  She also asked for low-interest loans of $200 million a year for periods up to five years.  I reassured her that our commitments would be met.

At a state dinner in her honor she expressed concern regarding our moves toward détente with the Soviets.  I told her that we had no illusions about their motives.  I said, 'Our Golden Rule as far as international diplomacy is concerned is: "Do unto others as they do unto you.'"

"Plus ten percent," Kissinger quickly added.

Mrs. Meir smiled.  "As long as you approach things that way, we have no fears," she said.
During my interviews with him in 1983, I asked RN if he remembered that first meeting with Mrs. Meir:
Oh, I recall it very vividly. She came to the Oval Office–I believe it was in 1969.   And what impressed me about Golda Meir was the contrast between her and Indira Gandhi. The contrast was really quite vivid.

Indira Gandhi was a very intelligent woman and a very strong leader, but she was one who acted like a man, with the ruthlessness of a man, but wanted always to be treated like a woman.

That wasn't the way Golda Meir was. Golda Meir acted like a man and wanted to be treated like a man. I remember so well when we sat down in the chairs in the Oval Office, and the photographers came in, and they were running their tape and so forth, and we were shaking hands, and she was smiling, and making the right friendly comments–"How are you? How's the family?" and the rest.

Photographers left the room.  She crossed her leg, lit a cigarette, and said,  "Now, Mr. President, what are you going to do about those planes that we want and we need very much?"

And from that time on, we had a very good relationship. It wasn't that she was not one who was very feminine, because she could be. She used to wear her hair in a bun. She told my daughter Julie the reason she did it was that her husband liked it that way, even though that wasn't the fashion, at least in–in certain places.

She was very feminine in another way. She never forgave. She never forgave those that had opposed her, she she thought it was unjustified.

She never forgave Ben-Gurion because he had opposed her when she was on her way up. She never forgave Pompidou, because Pompidou had said some disrespectful things about Israel and her–she thought so–a couple of years previously. But there is no question that she was a very strong, intelligent l–leader in her own right.
Cartoonist Noah Bee noted Mrs. Meir's first White House visit and referred to her interest in direct negotiations between parties in the Middle East.
That night, the President and Mrs. Nixon were the hosts at a State Dinner.

The Prime Minister's Toast to the President was particularly warm:
When I say this was a great day for me, Mr. President, I shall remember it always, because you made it possible for me to speak to you, to bring before you all our problems, all our worries, all our hopes and aspirations; and if you will forgive me, I did not have a feeling for one single moment that I, representing little, tiny Israel, was speaking to the President of the great United States.

I felt I was speaking to a friend who not only listens —in Hebrew we have two words, a word that means only listening, and a word that means that it really is absorbed–and I have a feeling that you were not merely kind to listen to me, but you shared what I was saying, what our worries are.

We discussed the problems of Israel as though they were our common problems. This means a lot. Israel has known in its short number of years too many hours when we felt we were all alone. And we made it.

Mr. President, thank you, not only for wonderful hospitality, not only for this great day and every moment that I had this day, but thank you for enabling me to go home and tell my people that we have a friend, a great friend and a dear friend. It will help. It will help us overcome many difficulties.

When the great day comes when this dream comes true, you will have had a great share in it.
The next afternoon, in the Roosevelt Room in the West Wing of the White House, RN bid farewell to his new friend.  With a characteristic flourish, he wished her well for the rest of her visit to America — particularly to Milwaukee, where her family had settled after they left her birthplace of Kiev, Russia.
THE PRESIDENT.  I can only wish you well on the balance of your trip. I know you will receive a wonderful welcome every place you go, and particularly in Milwaukee. Milwaukee lost the Braves, but they got you back.

THE PRIME MINISTER. Thank you very much, Mr. President.

THE PRESIDENT. As a matter of fact, the Braves could use you as a pinch-hitter right now in order to win.

THE PRIME MINISTER. They lost that opportunity.

THE PRESIDENT. They are in Atlanta. You know that.
In the Nixon Library's World Leaders Gallery, Ivan Schwartz's life size statutes of Golda Meir and Anwar Sadat stand side by side.'
In Leaders (1982), RN devoted several pages to Golda Meir.

We both took office in 1969.  We both resigned in 1974.  She became Prime Minister just two months after my own inauguration, and she served until two months before my resignation.  In effect, she was "my" Israeli Prime Minister; I was "her American President.

Georges Pompidou once described Golda Meir to me as "une femme formidable."  She was that and more.  She was one of the most powerful personalities, man or woman, that I have ever met in thirty-five years of public and private travel at home and abroad.  If David Ben-Gurion was an elemental force of history, Golda Meir was an elemental force of nature.

Some leaders are masters of intrigue, spinning webs of deception, planting suggestions that the unwary will take as promises, wheeling and dealing, constantly, even compulsively, plotting and maneuvering.  For Lyndon Johnson this was second nature.  FDR was a master of it.  For many, scheming is the essence of statecraft, the most effective and sometimes the only way of navigating the threatening shoals of competing interests and getting things done.  Not for Golda Meir.  She was absolutely straightforward.  There was nothing devious about her.  The corollary is that she was implacably determined.  There was never any question about where Golda Meir stood, or what she wanted, or why.  She could be either the irresistible fore or the immovable object, as the situation required.  But as an object she was immovable; as a force she was irresistible.
September 25, 2009 by Jonathan Movroydis | Filed Under Featured Articles | Leave a Comment
Interesting Takes From Home And Abroad:
Can Obama Save the Global Economy (and Globalization) at the G-20? By Thomas P.M. Barnett, Esquire
After a tepid U.N. Week, the White House takes to Pittsburgh with a humble plan: Convince China and the rest of the world that we'll stop consuming enough to take them down with us one more time.
A Great Good Man By Charles Krauthammer, The Washington Post
After the plain pine box is lowered into the grave, the mourners are asked to come forward — immediate family first — and shovel dirt onto the casket. Only when it is fully covered, only when all that can be seen is dust, is the ceremony complete.
The Reemerging Republican Majority? By Henry Olsen, Claremont Review Of Books
Especially in a democratic age, statesmen are careful students of social trends. They know that the art of political leadership can't afford to ignore the science of political demography, even though the former can never be reduced to the latter.
In Afghanistan, let U.S. troops be warriors By Byron York, The Washington Examiner
There was an international uproar when, on Sept. 4, in Afghanistan's Kunduz province, an American fighter jet under NATO command bombed a group of Taliban fighters who had hijacked two fuel tanker trucks.

Post-Allied America By Abe Greenwald, The Weekly Standard
The U.S. shrinks its influence and severs ties with sympathetic global partners.
September 24, 2009 by Frank Gannon | Filed Under American Politics, Barack Obama, Obama administration, Presidents | Leave a Comment
A face in the crowd: the "above the fold" photo from the UN Security Council meeting on The New York Times' website this morning.
First and foremost, there can be no prestige without mystery, for familiarity breeds contempt.  All religions have their tabernacles, and no man is a hero to his valet.  In the designs, the demeanor, and the mental operations of a leader there must always be 'something' which others cannot altogether fathom, which puzzles the, stirs them, and rivets their attention…aloofness, character, and the personification of quietness, these qualities it is that surround with prestige those who are prepared to carry a burden that is too heavy for lesser mortals.

—Charles de Gaulle in The Edge of the Sword